Taylor is a fellow Canadian Simmer that has created this unofficial cookbook with all of your favourite Sims recipes. I was so excited when I saw this on Twitter, so I thought I'd share it here for people to check it out! I can't wait to eat like a Sim in real life!
Are you looking for the perfect gift for the simmer in your life? Check out The Unofficial Sims Cookbook by Taylor O'Halloran! It is currently available for Pre-Order and will launch on October 11, 2022. It will be available at a few different retailers listed on the Simon & Schuster website.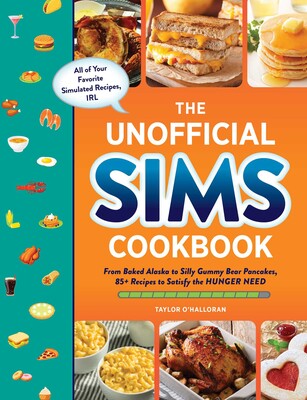 About The Book
Learn how to make all the meals you've seen your Sims devour with The Unofficial Sims Cookbook.
Sure, you've honed your Sims' cooking skills, but how are your skills IRL? Now, you can perfect the baked Alaska and lobster thermidor you've been watching your Sims make with The Unofficial Sims Cookbook.
Learn the steps behind the classic simulated recipes:
Chili Con Carne
Silly Gummy Bear Pancakes
Grandma's Comfort Soup
Minty Mocha Cupcakes
And more!
Your hunger will be satisfied, and you may even start your career path towards becoming a famous chef! Dive straight in with the delicious recipes in The Unofficial Sims Cookbook.
You can also check out Taylor's website UltimateSimsGuides.com and follow her on Twitter!